Keith D. Holmes, Jr.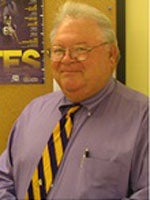 Teaching Associate Professor,
General Chemistry, Analytical Chemistry
Office: SZ 410
Phone: 252-737-1566
E-mail: holmesk@ecu.edu
BS,East Carolina University (1968)
MS/PhD, Emory University (1974)
---
Dr. Holmes received his BS in Chemistry from ECU in 1968, the first year ECU was a university. He also went on to receive his PhD from Emory University in 1974. Dr. Holmes has over 29 years of experience in the pharmaceutical industry, specifically in management and in analytical chemistry. In addition to his duties at ECU, he acts as a consultant in the pharmaceutical industry. Dr. Holmes also loves fishing.