Professional Science Masters (PSM)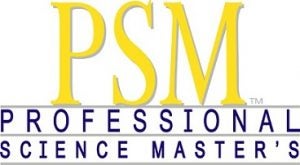 The Professional Science Masters (PSM) is a new concentration option available to students pursuing an MS degree in chemistry. Our program has been approved for affiliation as a PSM degree by the PSM National Office. This concentration allows students to pursue advanced training in science while simultaneously developing professional skills valued by employers. Modeled on recommendations by the National Professional Science Master's Association (NPSMA), there are three core curricular elements to the program:
Course content in chemistry and related STEM fields
Professional skills training
Experiential internship
The foundation of the program rests upon graduate-level chemistry courses; PSM students follow our standard MS course progression. A professional skills component, developed in conjunction with the ECU College of Business and Department of Psychology, is required and involves students taking at least three 'PLUS' courses from the following list:
ACCT 6241 – Financial and Managerial Accounting
ACCT 6521 – Accounting for Decision Making
MGMT 6102 – Comparative Management
MGMT 6802 – Organizational Behavior
OMGT 6123 – Quantitative Methods
OMGT 6333 – Project Management
FINA 6214 – Govt. Regulation of Business
PSYC 6343 – Organizational Behavior
Finally, an internship provides an experiential component where students demonstrate how they integrate the practical application of their scientific skills with their professional knowledge in a business setting. The internship is a defining feature of the PSM; projects with employers engage students in a real-world setting and inform the faculty how to tailor the curriculum to the employer's needs.
Questions about this program?  Contact:
Dr. Anthony Kennedy, Director of Graduate Studies
591 Science and Technology Building
hvastkovse@ecu.edu  252-328-9767